The defense industry has been fueled by wars throughout history, and as conflicts become more intense and long-lasting, the demand for defense products and services increases.
The ongoing conflict between Russia and Ukraine has led to a surge in global demand for defense systems, weapons, and combat equipment, creating unprecedented marketing opportunities for industry players. According to experts, the conflict could drive defense spending in Europe up by more than 60%, resulting in an estimated annual expenditure of 488 billion euros until 2026. Other nations facing geopolitical challenges are also increasing their defense budgets, with China raising its spending by 7.2% and India planning to invest billions in new weaponry and increase its defense expenditure by 13%.
Russia's Defense Industry Decline Benefits Others
The dominant position of key players in the global defense industry has been reinforced by the decline of Russia's defense sector. While Russia was once a major producer and trader of weapons, the ongoing conflict in Ukraine has resulted in a shift in priorities, leaving room for other nations to step up.
Countries with the highest military spending worldwide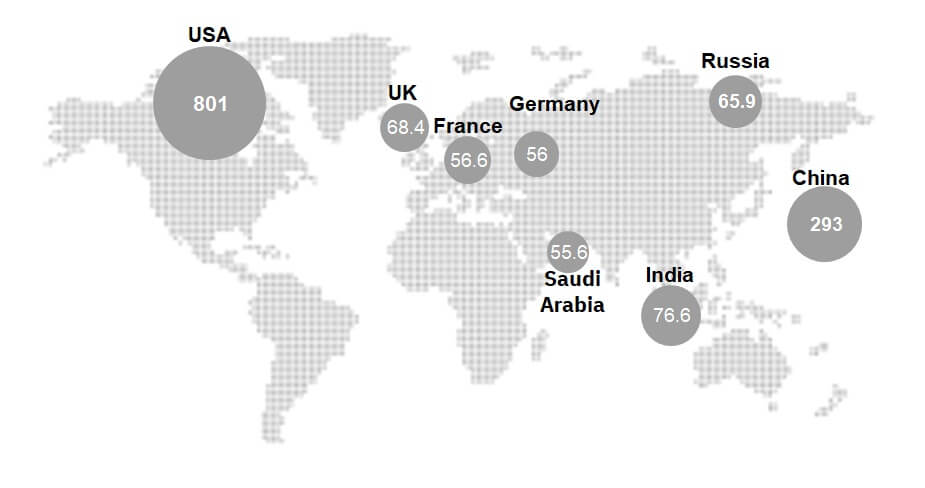 Top 10 US Defense Companies by Revenue (Million $)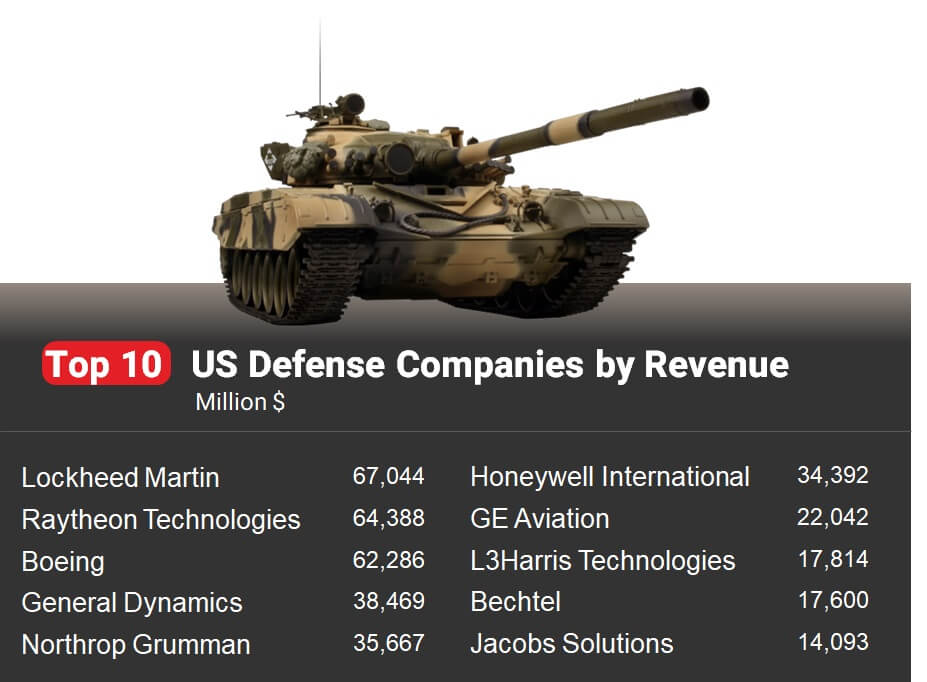 Source: statista
France is capitalizing on India's concerns over its heavy reliance on Russia for military equipment by bolstering its trade relations with the country. Thales, Europe's largest defense electronics group, has announced plans to reinforce its supply chain to meet the anticipated surge in demand. Turkey is also benefitting from the conflict, as its cost-effective drones proved effective in Ukraine's resistance against the initial Russian invasion. South Korea has also secured a deal to sell artillery shells to the US. The conflict in Ukraine has also presented an opportunity for German defense contractor Rheinmetall, which projects sales of 7.4-7.6 billion euros this year.
The US Emerges as Top Arms Manufacturer
Despite the ongoing conflict, the United States has emerged as the world's preeminent arms manufacturer, allowing it to cement its position as a dominant exporter in the arms and defense industries. A year after the start of the war, American companies are still struggling to keep up with the massive demand for arms, opening the door for smaller manufacturers to enter the market and make a name for themselves.
The defense industry encompasses not only manufacturers of weapons for land, sea, and air, but also those producing aircraft, ships, submarines, and technology-related fields, such as IT networks, computerized systems development and production, cyber defense, and radar and vision equipment - including those developed for the US Department of Defense and other government agencies. As a result, global arms sales for American companies surged by nearly 50% in 2022, exceeding 153 billion dollars.
Lockheed Martin
Lockheed Martin is a top American company that dominates global trade in aircraft and warship production, weapons, combat systems, security, and defense. It operates in the aviation, space, and missile sectors, and is the world's largest defense contractor, serving as the primary contractor for the development of the fifth-generation stealth fighter jet, the most expensive in history. This fighter jet was created as a joint initiative between the US and the UK to replace fourth-generation fighter jets.
General Dynamics
General Dynamics is one of the two main military shipbuilders and has a portfolio of tanks and land vehicles that make it one of the preferred suppliers for the US military, and as the largest defense-focused IT service provider, it enjoys a certain stability in revenue, even at times when the Pentagon ( Ministry of Defense) is cutting back on equipment purchases GD's market value today is $60 billion.
Northrop Grumman
Northrop Grumman is a conglomerate operating in shipping, aviation, space, and defense. It ranks as the third-largest manufacturer of defense systems globally, the world's top manufacturer of radar systems, and the leading manufacturer of vessels worldwide. The company is renowned for its work on stealth bombers and has close ties to the nuclear triad, a set of nuclear missiles, bombers, and submarines developed to retaliate against attacks on the nation. With a market value of approximately $69 billion, Northrop Grumman is a major player in the defense industry.